Kirby saw a cake on the fridge so he/she tried to get it down then... uh oh 😨😨😨😨😨😨😨😨😨😨😨😨😨😨😨😨😨 KIRBY DROPPED THE CAKE AND NOW KING DEDEDE HAS TO CLEAN IT UP OH NO 🍞🍞🍞 BUT WAIT!!! there was a DVD in the cake so Kirby put the DVD in the computer and there was a game it was Called kirbydroppedacake.exe you play as king dedede and go to the kitchen and it shows Kirby dropping the cake and you go to the dollar store and buy a burger meanwhile Kirby nags you to buy a new cake after you buy a burger you have to go home but you slip on the cake and then you have to go to the doctor to get your blood drawn then yo go back home and slip on the cake then you go to McDonald's to eat 6000 French fries then you go home then you slip on the cake then you go make a cake for Kirby after you make the cake Kirby drops it and it repeats over and over again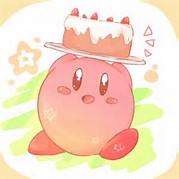 Ad blocker interference detected!
Wikia is a free-to-use site that makes money from advertising. We have a modified experience for viewers using ad blockers

Wikia is not accessible if you've made further modifications. Remove the custom ad blocker rule(s) and the page will load as expected.